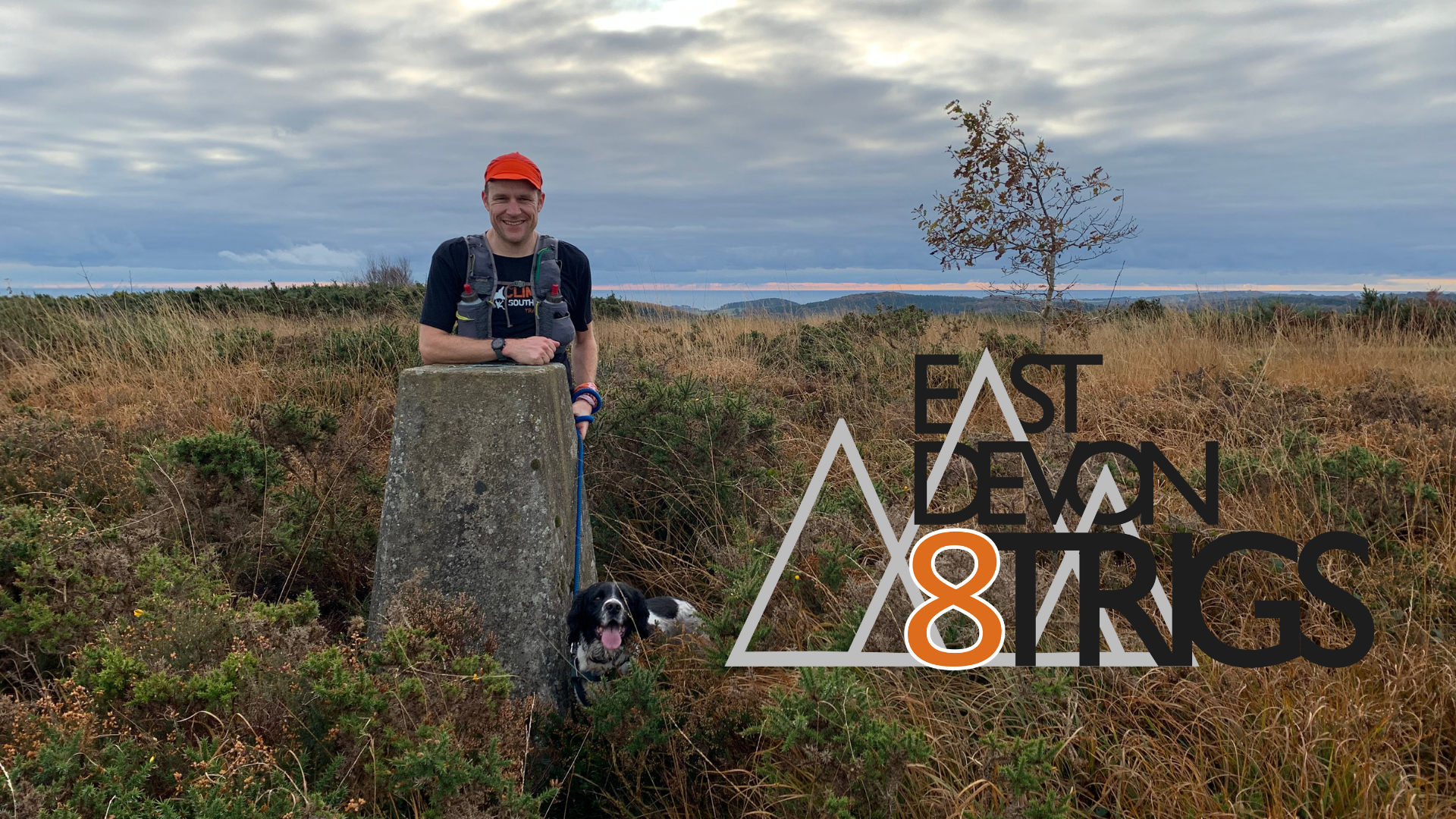 So, what's involved?
Back for a 4th year, 4th November 2023 (Anti clockwise)
33 and 21 mile (53km /34km) options
Self navigate
Teams of 2 – 6 
Solo entries available for confident navigators
Open to runners and walkers
Trigpoints are the common name for "triangulation pillars". These are concrete pillars, about 4′ tall, which were used by the Ordnance Survey in order to determine the exact shape of the country. They are generally located on the highest bit of ground in the area, so that there is a direct line of sight from one to the next. By sitting a theodolite (an accurate protractor built into a telescope) on the top of the pillar, accurate angles between pairs of nearby trigpoints could be measured. This process is called "triangulation".
Our Event
Eight of these trig points sit on a beautifully varied trail loop in East Devon. The route starts on Budleigh Salterton seafront and follows the South West Coast Path to West Down Beacon. Far reaching views from here extend to Berry Head, Portland and Dartmoor. From here, both 5 and 8 Trig routes head inland and cross Woodbury Common, passing 3 trigs on the way. The routes split at Harpford with the 5 Trigs route crossing Mutter's Moor and on to High Peak. The 8 Trigs route continues to Harford Common and the Sid Valley, before reaching the South West Coast Path again at Weston Cliff. The route climbs multiple hills as is passes through Sidmouth before joining the 5 Trigs at High Peak. A stunning section of coastline with rolling hills leads back to Budleigh Salterton. (The route will be reversed in 2023)
On the 4th November 2023, teams will leave at staggered start times. You must stay with at least one other person at all times. Solo entries permitted for confident navigators only. Each team will need to record their route on Strava (or similar app) for verification later.
2 well stocked aid stations on 8 Trigs route (1 on 5 Trigs route)
First aid cover at checkpoints and mobile units in between
Special medal for all finishers
Participant information 2022 (download handbook below)
East Devon 8 and 5 Trigs Flood Diversion
The Route
All trig points can be found without the need for complicated navigation techniques. However, a basic understanding of navigation will be required as the 8 trigs route isn't way marked. Total distance is approximately 33 miles.
The shorter 5 trigs route avoids the biggest hills on the Eastern part of the course. A total distance of just over 21 miles.
Both routes will be available on Outdoor Active and a GPX file can be downloaded. If you prefer a traditional map, Explorer 115 (Exmouth and Sidmouth) covers the whole route. This is our recommended route, but the exact line you take is up to you! (Please see notes in participant handbook).
The trig points
West Down Beacon – SY045811
Black Hill – SY026854
Woodbury – SY039881
Aylesbeare – SY 055900
Beacon Hill – SY111909 (8 trigs only)
Buckton Hill – SY148908 (8 trigs only) THIS IS CURRENTLY INACCESSIBLE, please use wooden signpost on bridleway as alternative SY148909
Weston Cliff – SY170882 (8 trigs only)
High Peak – SY103859
Route will be clockwise for 2022. Everyone will start with West Down Beacon and pass High Peak on the return to Budleigh.
Results 2020
East Devon 18 Trigs
Fancy a bigger challenge? 18 Trigs in East Devon can be linked on foot by a route of approximately 75 miles. Exact route choice is up to you. The aim should be to complete all 18 in under 24hrs, (Like the Bob Graham Round, but in East Devon!)
Further information here: East Devon 18 Trigs