North Coast 110 / Exmoor Coast 55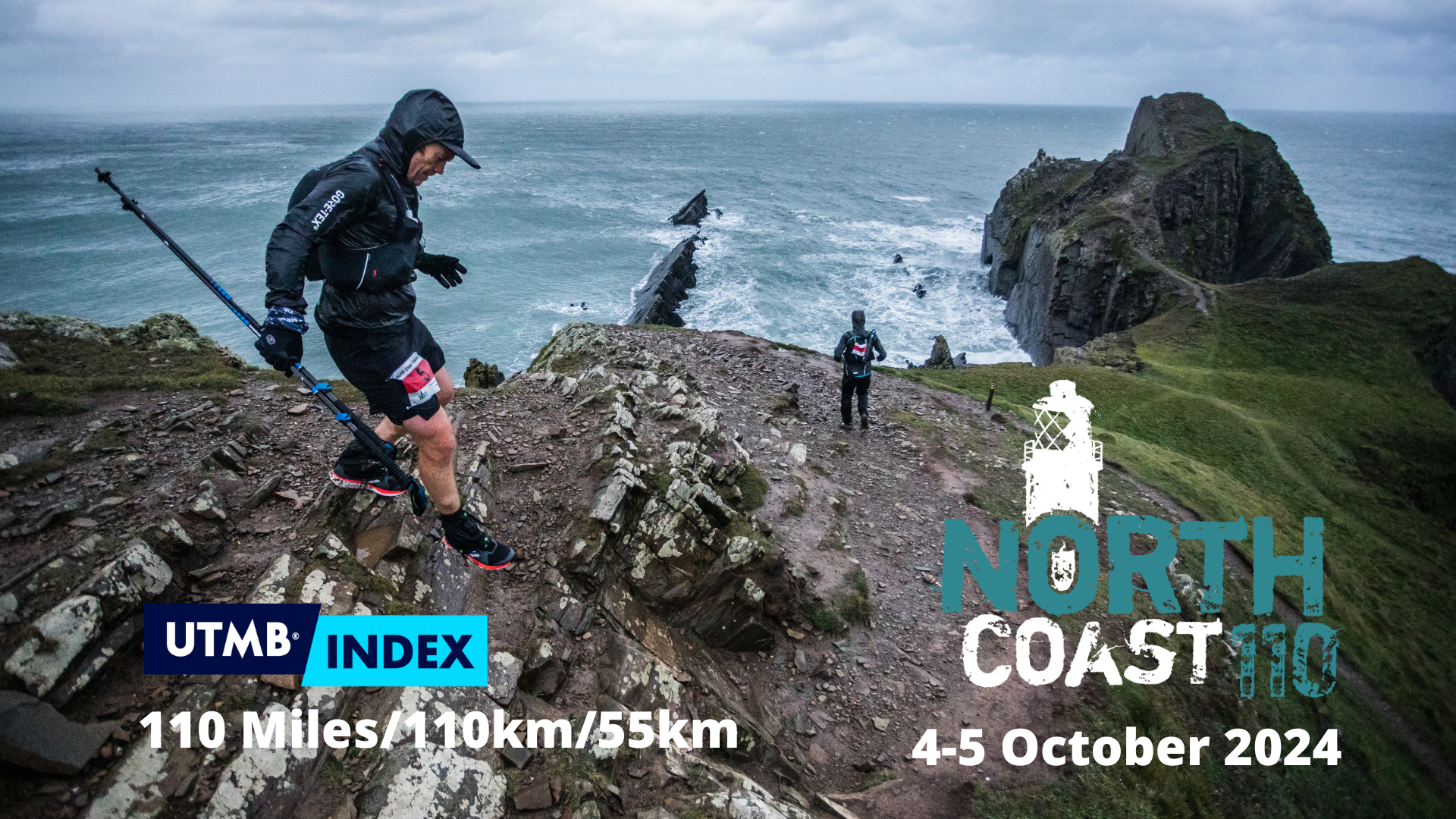 North Coast 110 Mile Ultra – Hartland Quay
4 October 2024 – 7:30am – 38 hours
Entries open in November.
The North Coast 110 Mile Ultra takes on the true North Coast of the South West peninsula. We believe that this is our toughest event yet. If you've completed the Jurassic Coast 100 Mile Ultra or the Devon Coast to Coast Ultra, this could be for you. With nearly 6,000m elevation gain, and 12 hours of darkness, this promises to be a brutal adventure of epic proportions. Entry will require a previous 50m mile finish as a minimum. You will be asked for this information on booking. 
The race starts with a particularly hilly section from Hartland Quay, before turning East at Hartland Point. The views out to Lundy island are incredible from here. The hills keep coming as you pass the pretty village of Clovelly and onwards to Westward Ho! From here a flat section takes you around the Torridge and Taw estuaries to join the North Coast 110 KM Ultra in Barnstaple.
6 ITRA  Points / 100M UTMB Index race
North Coast 110 Mile Ultra 2022 on Outdoor Active (GPX available through this link)
North Coast 110 mile handbook 2023
North Coast 110 Km Ultra – Barnstaple
4 October 2024 – 8:30pm – 25 hours
The North Coast 110 KM Ultra begins with an exciting night time start in Barnstaple. The town lights will soon be left behind as you enjoy the only flat section of this route along the Taw estuary. After passing through Braunton Burrows, you'll climb your first hill above Saunton Sands, before dropping back down to Croyde Bay.
The next part of the route will take you around Baggy Point, Woolacombe Sands and Morte Point. From here on, the hills increase in size and frequency as you pass Bull Point light house, Lee Bay and on to Ilfracombe. A short section through the town leads to another couple of hills before reaching the stunning Water Mouth Cove and the half way point in Combe Martin.
From Combe Martin, the North Coast 110M and 110KM join the Exmoor Coast 55KM all the way to Minehead.
4 ITRA Points/ 100K UTMB Index Race
North Coast 110km 2022 on Outdoor Active (GPX available through this link)
North Coast 110km handbook 2023
Exmoor Coast 55 Km Ultra – Combe Martin
5 October 2024 – 7:30am – 14 hours
The Exmoor Coast 55KM Ultra starts at Combe Martin, and heads east to finish in Minehead at the official South West Coast Path start/finish marker. This section traverses the entire length of the Exmoor National Park.
Tucked away in the Bristol Channel, it is more sheltered than other parts of the 630 mile South West Coast Path. It has the longest stretch of coastal woodland in England and Wales, highest point on the coastline at Culbone Hill (433m), and highest sea cliff, Great Hangman (244m).
3 ITRA Points / 50K UTMB Index race
Exmoor Coast 55km 2022 on Outdoor Active (GPX available through this link)
Exmoor Coast 55km handbook 2023
The inaugural North Coast 110 Mile Ultra 2020, including the wettest day on record!