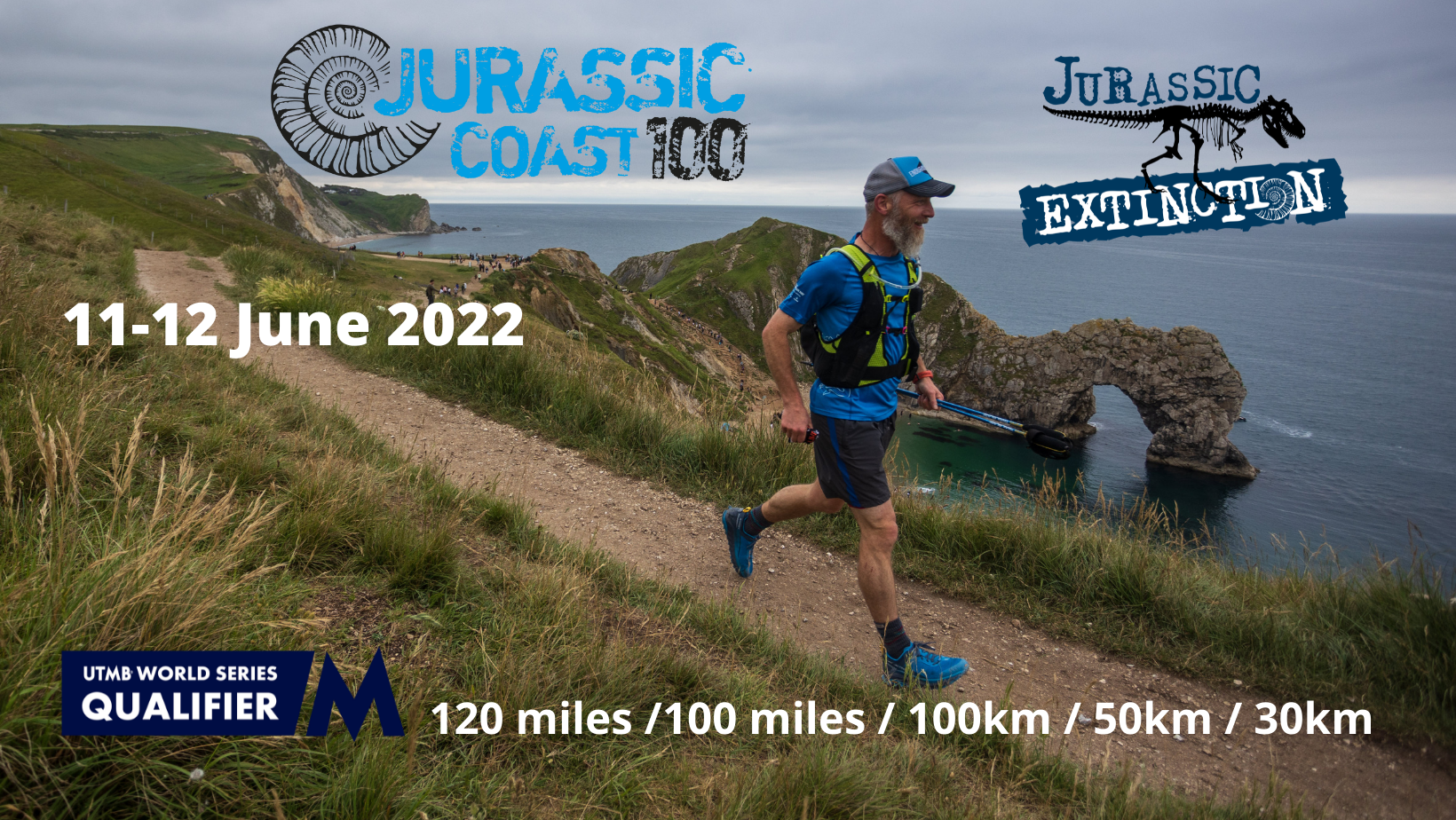 Jurassic Extinction Ultra Trail, 120 Miles, 11th June 2022
Jurassic Coast 100 Mile Ultra, 11th June 2022
Jurassic Coast 100 Km Ultra, 11th June 2022
Jurassic Coast 50 Km Ultra, 12th June 2022
Jurassic Coast 30 Km Challenge, 12th June 2022
(Bookings will open on Monday 30th August at 6pm)
The Jurassic Coast 100. Join us on a journey through 185 million years of history and 100 miles of incredible coastline.
The Jurassic Coast is a World Heritage site that spans 95 miles, from Studland to Exmouth. In 2021, you can join us for 30km from Beer to Exmouth, 50 km from Lyme Regis to Exmouth, 100 km from Weymouth to Exmouth, 100 miles from Poole to Exmouth or take on the Jurassic Extinction Ultra Trail which includes the isle of Portland.
Results for 100 mile and 100 km 2021
Results for 50km and 30km 2021
Watch the 2019 Race video here:
Run or Walk the Jurassic Coast 100, take it at your pace. Just like our other events, we welcome runners looking to complete in a fast time as well as walkers, who may wish to take a little longer and enjoy their surroundings. 
Transport to the start:
Optional coach transport will be available from Exmouth to take you to the start of the Jurassic Coast 100/120 mile, 100km, 50km and 30km events. This will allow you to finish at your car, rather than having to collect it afterwards. Add this when making your event booking if required. It will be possible to book this separately at a later date.
Jurassic Coast 100 – Essential Information for Participants (All Distances) 2021
Full route (all distances) on ViewRanger (click here)
Full route 2021 GPX (all distances) Zip File
Jurassic Extinction Ultra Trail – 120 Miles
7am on 11th June
South Haven Point (Poole) – Exmouth
120 miles (100 mile route plus the isle of Portland)
40 Hours
6 UTMB Points
Jurassic Coast 100 Mile Ultra
9am on 11th June
South Haven Point (Poole) – Exmouth
105 miles
36 Hours 
6 UTMB Points
Jurassic Coast 100 Km Ultra
9pm on 11th June
Chesil Beach (Weymouth) – Exmouth
100 km
24 Hours
4 UTMB Points
Jurassic Coast 50 Km Ultra
8am on 12th June
Lyme Regis – Exmouth
50 km
14 Hours
2 UTMB Points
Jurassic Coast 30 Km Challenge
 10am on 12th June
 Beer – Exmouth
 30 km
 10 Hours
Full support along the 100 mile route from the team at Climb South West
There will be regular places to top up with water and well stocked aid stations with a range of energy supplies available. These will be approximately every 10-12 miles.
What's included? – Full information will be in your participant handbooks.
Professionally managed challenge event and race.
Well stocked aid stations along the route.
Jurassic Coast 100 T-shirt for all.
Jurassic Coast 30 km medal for all 30km finishers.
Jurassic Coast 50 km medal for all 50 km finishers.
Jurassic Coast 100 km medal for all 100 km finishers.
Jurassic Coast 100 mile belt buckle for all 100 mile finishers.
Special buckle and t shirt for all Jurassic Extinction finishers.
UTMB points linked to 50km / 100km / 100/120 mile distances.